Opening of the Nordic ski area from December 18, 2021.
The closure of the ski area is scheduled on the 8th of April, 2022.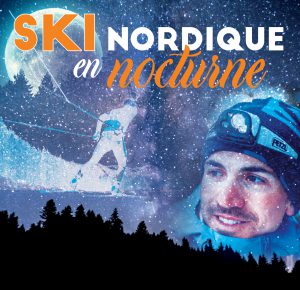 NEW !!!! nordic night skiing
On Wednesdays from 6pm to 8.30pm, departing from Les plans.
Child : 3 € (from 6 to 16 years old) 
Adulte: 5 € 
The entire area is open (approximately 81.9 km of track).
Departure from the village, from Plans, from Lormay (Auberge Nordique) in the Bouchet or Chinaillon Valley. Nordic ski links village-valley of Bouchet and Les Confins open.
The slopes are open from 9 a.m. to 5 p.m.
Sale of ski passes: on site at the departure points (except Auberge Nordique) and at the Tourist Office.
The supervision of outdoor sports activities is authorized in compliance with health instructions and with a maximum of 6 people including supervision.
TRAILS IN LE GRAND-BORNAND VILLAGE AND IN THE BOUCHET VALLEY
This wild area, populated with snow-covered spruce trees and cozy chalets nestled beneath the snowflakes, the Nordic ski area offers 58km of perfectly groomed and maintained runs, with three main access points (Village, Les Plans, and Lormay Auberge Nordique) that will allow you to discover a wonderful setting that combines the great outdoors, sliding on snow, cultural sites, and local agricultural life.
– 11 loops, ranging from 1km to 15.5km, from beginner to expert, including the Nordic trail that links with the Confins Nordic ski area.
– 70.5 km of groomed trails for classic or skating technique starting in the Village and heading towards the Bouchet Valley.
– Tour du Danay black track (12 km) to join the nordic ski area at la Clusaz / Les Confins.
– 2 biathlon stadiums (cross-country skiing and shooting) in Les Plans in the Bouchet Valley and in the Sylvie Becaert stadium in the heart of the Village (the place of The Biathlon World Cup).
– 3 fun learning areas open to everyone, near the ice-skating rink in Le Grand-Bornand Village, in Les Poches, and at the Lormay – Auberge Nordique in the Bouchet Valley.
– 9 km of artificially snow-covered slopes.
NORDIC ITINERARIES IN LE GRAND-BORNAND CHINAILLON (Free access)
– 4 loops for classic Nordic skiing ranging from 1.4km to 9.4km starting in the old village and through the pastures and forests facing the alpine ski area.
– 1 groomed trail for pedestrians starting from Chinaillon's old village to discover and enjoy the Aravis Mountains.