Description
The Grand Bornand ski area offers:
-> 164 ski lockers of 4/5 heated places, located at the foot of the Rosay cable car (1000 m)
-> 154 ski lockers are provided in the new service building of Charmieux (le Chinaillon 1300 m)
Capacity
Capacity: 4-5 pairs (1 pair = skis or snowboard + poles + boots) either for:
or 
-> Equipment not insured in the event of theft
-> Minimum rental period: 2 days
Online reservation system and on terminals in the premises.
Rates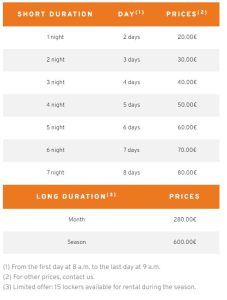 Schedules
The lockers are open from 8 a.m. to 8 p.m., until 10 p.m. on night skiing evenings at Le Charmieux.
Book
The lockers can be booked online, or on site directly in the locker room (payment by credit card only).